No one likes seeing fuel prices continuing to rise, especially people who use massive amounts of fuel every day, regardless of the price. Forecasters claim prices will continue to rise before they start to go down.  Even with red-dye fuel being less expensive then on-road fuel, you can still feel the hit in your back pocket when you fill up your vehicle.
AGCO has a solution for YOU! By installing our auto guidance solutions on your vehicles, you will instantly start seeing savings right back into YOUR pocket.  With saving money on operator time and machine running time aside, your saving of fuel will be extraordinary. Install a System 150 auto-guidance on your tractor or combine to start SAVING money instantly!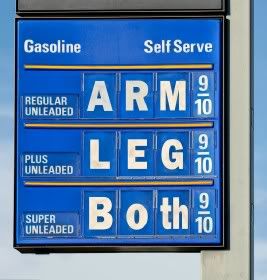 Renee Boivin, marketing manager, Massey Ferguson, states "System 150 will save our customers money on every pass across a field and they can select the level of accuracy right for their operation. With diesel fuel costs rising, System 150 is the perfect complement to our Dyna-Step transmission and Datatronics III, our electronic control system. Each is designed to improve operator and equipment efficiency and productivity."
To put the proof in the pudding on the fuel savings auto-guidance, Professor Yves Reckleben, managing director of RKL in Rendsburg says, "depending on investment costs for the system in question, and the annual extent of use, the results, e.g. for annual application area of 1,250 acres can range from $32.05 to $102.51 dollar per acre. With that, the savings effect is already more than the annual costs for the system. Avoiding overlapping during fieldwork leads to work efficiency improvements and reduces inputs as well as implement wear."  To read more of what Professor Reckleben has to say about precision farming in the Spring edition of Agrifuture magazine click here!  http://www.agrifuture.com/
If you are looking to save money on daily tasks such as fuel, operating time, and application there is no doubt that Auto-Guidance is the best option for you, the only question is which system. Here at AGCO, we offer everything from a Lightbar option all the way to RTK accuracy.
Are you going to save money on fuel this summer? Take action and save money on your bottom line today!
Photo via joust67