Been waiting around for a farming app for your smart phone? Well it's here: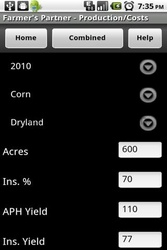 One of the biggest challenges each farmer faces is decisions related to marketing his grain and how those decisions will affect his bottom line. Farmer's Partner™ Android app for agriculture enables the farmer to calculate profitability based on where the grain markets are currently trading and to see how higher or lower grain markets will change his bottom line and his agribusiness.
"Farmers are known for being early adaptors of new technology," says Heartland Farm Partners President Jeff Peterson. "But a few months ago when we looked for a smart phone app to help top producers manage their operation from their mobile phone, we were surprised there simply weren't any apps designed for agriculture. So we decided to build one."
Farmer's Partner runs on Android phones and enables a farmer to input dozens of variables to create a complete overview of the farm operation. Commodities pricing and breaking news are also built into the app, giving the producer both historic and up-to-date information to allow him to make the best decisions on grain marketing. Farmer's Partner is available through the Android marketplace." Source: Farmer's Partner First Smartphone App Created Specifically for Today's Farmer
You can click the image to download this Farmer's Partner app for the Android from their site. What are some cool gadgets that you use to help you farm efficiently?
Ever had a question about agriculture or farm equipment
that you really wanted answered but didn't know where to go? You can always ask your
local dealers
, as they are experts in your local area and will be happy to help, or point you in the right direction.
You can also ask AGCO. We really mean it when we say
"Your Agriculture Company."
We have a staff of countless knowledgeable ag experts around the globe that stay up-to-date with product information and current agriculture issues. You've already heard from experts in the areas of combines, technology, balers and tractors. Our product specialists are ready to answer the wide variety of questions you may have.
What are some questions you would like answered? Post them below as a comment and your question could be answered in a future blog post by one of AGCO's leading ag experts.
I've mentioned before on this blog – the importance for farmers to get involved with social media. But this isn't just for promotion of local
farms…it's about promoting all farms and agriculture. A farmer in California can give a tour of their farm that is viewed all around the world. A farmer in the UK can invite residents to come sample some fresh local produce. Steve Tucker, pictured at the right, from Venango, Nebraska, has both a blog,"View from the Tractor" and over 2200 Twitter followers. Below are some other reasons I found for farmers to get involved with social media:
Recently Anne Mims-Adrian, Alabama Cooperative Extension System associate director of information technology, along with professional speaker Michele Payn-Knoper gathered responses on the benefits of using social media in farming, ironically posting the question on Twitter, another social media site allowing users to post short comments and questions. Here are a few of their responses:
Farmers' social media benefits:
• Sharing information and ideas with other farmers and learning from other farmers, ranchers and associates of agriculture.
• Providing quick, responsive networks and communities for farm use and important emerging issues.
• Marketing farm and ranch products.
• Connecting and interacting with consumers, creating conversations and relationships with them.
• Allowing agriculturists to share positive information.
• Educating people who are not associated with agriculture.
• Widening the scope of local farmers.
Source: Farmers Learning Benefits of Web-Based Social Media
Get involved and share your blog, Facebook page, or Twitter information as a comment below! We may feature your farm on a future blog post!
Hello everyone, Matt LeCroy again. Thank you all for your interest in the Massey Ferguson 2170XD balers. We have had very successful starts in all the areas that are running the XD balers; showing gains between 18% and 21% across the board. We have been baling Sudan Grass and Bermuda in Arizona.
The bale / weight scale kit that I mentioned in my previous article is shown below. You will notice the load cells at the bottom of the chute mounting. These load cells measure the bale weight. The bale length and flake length are measured via the star wheel meter on the top of the bale chamber. The bale weight is displayed on the baler or tractor monitor if the tractor is ISO compliant.
Below is a field shot of one of our balers running in Arizona in Alfalfa. You will notice we are running against two competitive balers. With a 23% faster plunger speed and the Hesston pre-compression chamber we were running much faster in the field with better bale formation.
I will be traveling to Oregon to bale different types of grass hays and straw next week. Keep watching for more information on the exciting 2170XD balers as I will have an update from the field next week.
Remember, we'd love to hear from you, so post a comment with any questions you might have on hay or hay products.
AGCO SISU POWER
engines are a leader in engine technology; its new
e3 SCR
(selective catalytic reduction) seven-cylinder engines
meet the latest European and North American emission standards and are excellent proof of this.
Profi Tractor Test
and
Nebraska Tractor Test
confirm the results. Did you know….
"SISU" is a Finnish term loosely translated into English as strength of will, determination, perseverance, and acting rationally in the face of adversity. But, the word is widely considered to lack a proper translation into any language. SISU has been described as being integral to understanding Finnish culture. The literal meaning is equivalent in English to "having guts", and the word derives from

sisus

, which means something inner or interior. However SISU is defined by a long-term element in it; it is not momentary courage, but the ability to sustain an action against the odds. Deciding on a course of action and the sticking to that decision against repeated failures is SISU. Source: Sisu – Wikipedia, the free encyclopedia
You can learn more about AGCO SISU POWER engines by watching the video below and by checking out the AGCO SISU POWER website.