The new Sunflower SF1550 Series five section discs are here for U.S., Canada and Eastern Europe. They have a big, acre eating appetite that will manage over thirty acres per hour with five section flexibility, and 50 feet or 15 m working width. Tom Draper, Product Marketing Manager for AGCO's Seeding and Tillage says:
"It is more than just a big disc harrow…..there are features that set it apart from the competition. The large producer in the U.S., Canada and in Eastern Europe, and in other broad acre areas and applications has the opportunity to work their ground with the combination of the biggest and the best."
View the Sunflower SF1550 Series Disc Harrow product literature. You can also find out more information from your local dealer.
Jamie Cole, Creative Director at Red Barn Publishing, recognized as Writer of the Year at 2010 Ag Media Summit in St. Paul, Minnesota, U.S.
Meghann McNally, Massey Ferguson Brand Manager – North America commented, "We are honored that Jamie won the Writer of the Year award at the 2010 AG Media Summit Awards ceremony. His work on the pages of Massey Ferguson Farm Life and AGCO Advantage magazines brings to life the rich stories of farmers across North America. AGCO congratulates Jamie for his award."

Check out one of Jamie's award winning articles starting on page 12 of the
web version of the Farm Life
Magazine.
Congratulations, Jamie! Other past issues of these award winning magazines can be viewed at:
You can subscribe to AGCO Advantage and Massey Ferguson Farm Life through your
North America dealer
.
New RoGator and TerraGator Application Equipment was introduced to U.S. and Canadian agricultural journalists this morning. The ag media was invited to stay the day after Ag Media Summit for a special AGCO New Product Preview in St. Paul, Minnesota. While the official public introduction will be at MAGIE (Midwest Ag-Industries Exposition) on August 18-19, Mark Sharitz, Director of Marketing for Application Equipment Products, highlights these exciting new RoGator and TerraGator machines:
Here's an informational video about the
Massey Ferguson HD Series 2600 tractor
lineup. It features everyone's favorite Massey Ferguson product marketing specialist, Jerry Oxborough, in a walk-around showcasing all of the new features and specifications.
Been waiting around for a farming app for your smart phone? Well it's here: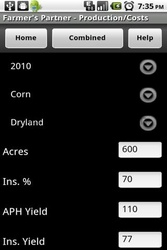 One of the biggest challenges each farmer faces is decisions related to marketing his grain and how those decisions will affect his bottom line. Farmer's Partner™ Android app for agriculture enables the farmer to calculate profitability based on where the grain markets are currently trading and to see how higher or lower grain markets will change his bottom line and his agribusiness.
"Farmers are known for being early adaptors of new technology," says Heartland Farm Partners President Jeff Peterson. "But a few months ago when we looked for a smart phone app to help top producers manage their operation from their mobile phone, we were surprised there simply weren't any apps designed for agriculture. So we decided to build one."
Farmer's Partner runs on Android phones and enables a farmer to input dozens of variables to create a complete overview of the farm operation. Commodities pricing and breaking news are also built into the app, giving the producer both historic and up-to-date information to allow him to make the best decisions on grain marketing. Farmer's Partner is available through the Android marketplace." Source: Farmer's Partner First Smartphone App Created Specifically for Today's Farmer
You can click the image to download this Farmer's Partner app for the Android from their site. What are some cool gadgets that you use to help you farm efficiently?